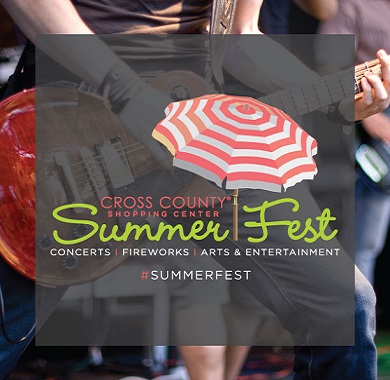 Become a SummerFest Sponsor
Now through May 1, 2017
Marketing your company's products and services at Cross County Shopping Center's annual SummerFest series is a powerful way to reach customers.
Get Your Message in Front of Millions * Gather Leads * Sell Products * Enhance Your Brand and MORE!
SUMMERFEST FACTS
4 Million visitors during SummerFest months
20+ Events hosted between May and August
Receive regional and local news coverage
Hundreds of thousands of impressions
11,000 Email subscribers
Social media engagement
SPONSORSHIP PACKAGES
Sponsorship packages are now available and can be tailored to meet your marketing goals and budget.
MEDIA SPONSOR
Logo included in advertising (print and/or digital)
Logo displayed on mall signage (posters, backlit ads, stage banner)
Logo included in digital support (Cross County website, email blasts, social media posts) with a link back to your company website
Logo included in creative materials (flyers and more)
BOOTH SPONSOR
Presence at events: 10x10 booth includes one 6 foot table and two chairs provided by mall
Opportunity to display company banner at booth
Your company will be identified as a sponsor at each SummerFest event to attendees by official event emcee
Inclusion in press releases to media as the event sponsor
CUSTOM SPONSOR
Choose elements from both the Media and Booth sponsor options and create a custom sponsorship
To become a sponsor or for more details send an email HERE.