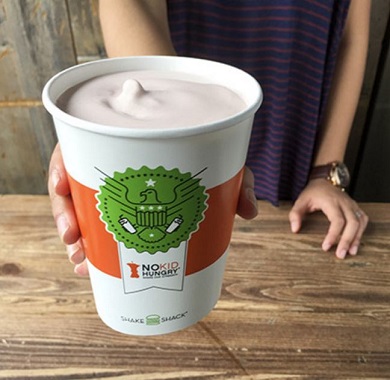 Shake it Forward
Now through May 31, 2017
SHAKE SHACK AND NO KID HUNGRY KICK OFF THE 6th ANNUAL GREAT AMERICAN SHAKE SALE!
Shake it forward!
Shake Shack's goal is to raise awareness and funds for No Kid Hungry, a campaign focused on ending childhood hunger in America. No child should go hungry, but 1 in 6 kids in America are living in households without consistent access to food.
Throughout May, Shake Shack guests who donate $2 or more to No Kid Hungry will receive a card for a complimentary hand-spun shake—valued at $6.00—redeemable on their next visit. Donations will be accepted in-Shack and online at http://bit.ly/shack-donate-now. 100% of donations will benefit No Kid Hungry.

To kick off this year's Shake Sale, Shake Shack is introducing three new featured shakes, available for a limited time:
Brownie Batter: chocolate brownie batter frozen custard blended with fudge sauce, topped with whipped cream and chocolate sprinkles
Cinnamon Dulce De Leche: vanilla frozen custard blended with dulce de leche and cinnamon, topped with whipped cream and cinnamon sugar
Red Velvet Cake: vanilla frozen custard blended with cream cheese-frosted red velvet cake and topped with whipped cream
In total, Shake Shack has raised over $1.7 million for No Kid Hungry in the six years since the Great American Shake Sale began. Shake Shack's goal for 2017 is to raise an additional $500,000 for No Kid Hungry.

Donations to No Kid Hungry help connect children to the healthy food they need through essential nutrition programs like school breakfast, summer meals and classes for low-income families about healthy shopping and home cooking. Just $2 can provide kids with 20 meals. If Shake Shack reaches its goal of raising $500,000 this year, that's 5 million meals for hungry children in America.