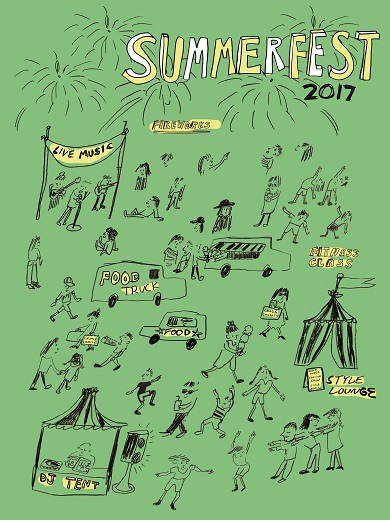 SummerFest Poster Contest Winners
Now through August 18, 2017
Thanks and congratulations to all of the artists who entered the 2017 SummerFest Poster Contest.
Steph Becker, a Brooklyn, NY artist, chose to depict a fun summer day spent enjoying the activities SummerFest has to offer, using pencil and digital media. Steph is our 1st Place Winner and you can see her poster displayed at SummerFest events!
Congratulations to our 2nd Place Winner Maristela Ordinola, from New Rochelle, who created a drawing of her perfect summer, dancing the night away.
Our 3rd Place Winner is Jen Ferguson, from Brooklyn, NY, who created a watercolor piece with the idea of a fun summer theme in mind.
For more SummerFest events, visit www.crosscountycenter.com.