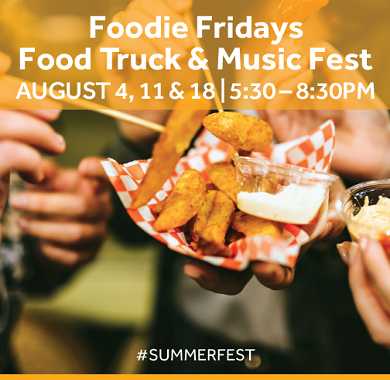 Foodie Fridays are Coming to SummerFest
August 4, 2017 through August 18, 2017
Foodie Fridays are coming to our SummerFest series this August!
Join us on Fridays, August 4th, 11th and 18th in the middle of the mall to enjoy food from area Food Trucks (for sale) and mall eateries like Shake Shack, Applebee's and more! Plus, each Friday there will be a different band playing live music from the SummerFest stage, next to Michael Kors - bring your chairs & blankets to listen, FREE!
FOOD TRUCK & MUSIC SCHEDULE: 5:30PM to 8:30PM
Friday, August 4: Concert with Royal Khaoz Band (Reggae music)
Friday, August 11: Concert with East Side Stories Band (Top 40 music)
Friday, August 18th: Concert with Angry Young Men Band (Billy Joel Tribute)
A portion of food truck sales will go to benefit the Food Bank for Westchester.