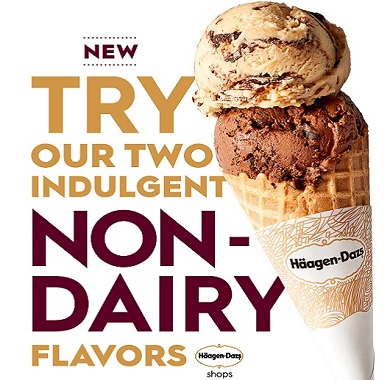 Haagen Dazs Has Non-Dairy Flavors
Now through May 8, 2018
Häagen-Dazs Shops is thrilled to announce that two Non-Dairy flavors are now available at the Cross County Shopping Center store.
Our two new Non-Dairy flavors, Chocolate Salted Fudge Truffle and Peanut Butter Chocolate Fudge, are just as rich and delicious as our regular ice cream and provide an excellent addition to our dessert offerings, especially for those seeking Non-Dairy options.

At Häagen-Dazs Shops we want to make sure everyone is able to enjoy our extraordinary products which is why we decided to introduce two on-trend, indulgent Non-Dairy flavors into Shops!
So what makes the Häagen-Dazs new Non-Dairy offerings unique?
While most non-dairy options simply start by substituting soy milk, almond milk or cashew milk, every flavor in the Häagen-Dazs collection begins with a core ingredient, like real pieces of Belgian chocolate and actual peanut butter to create an indulgent flavor with a creamier texture and an authentic rich taste that shines through.
Stop by and try our new flavors today - located between Gap and Bath & Body Works.