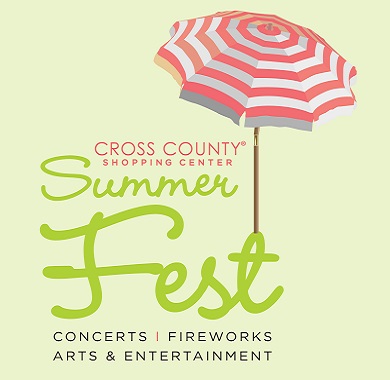 Summer Fest 2018
Now through August 17, 2018
Summer Fest 2018 is at Cross County Shopping Center!
OUTDOOR CONCERTS: 6:30PM - 8PM, on The Green, in the center of the mall
Bring your beach chairs and blankets and enjoy different bands perform throughout the summer.
KID FEST: Stories & Workshops
This summer we are introducing two NEW Summer Fest events for kids! All events take place on The Green, in the center of the mall.
Story Time: Wednesdays, 7/25, 8/1 and 8/8 at 6:30PM
Workshops with the Hudson River Museum: You MUST RSVP for the museum workshops. There is LIMITED SEATING AVAILABLE. EMAIL HERE TO RSVP. For kids ages 5 to 12 years.
Art Workshop, Tuesday, 7/24 at 10AM
Have your quick portrait done by one of four professional artists and then make your own based on their guidelines, using real art materials! Artists will demonstrate and provide instruction, setting up children facing each other to practice how to render likenesses of their friends and family.
Science Workshop, Thursday, 7/26, 6:30PM
We will have activities which explore gravity and light. Kids will have a chance to play planet and find the sweet spot for an orbiting moon, and we'll help participants to discover the nature of light, and how scientists study light. Our guide through the mysterious world of gravity will be Eden Girma, an astrophysics graduate from Harvard who has been researching the ability of black holes to litter nearby space with table scraps from the stars they consume. Weather permitting, HRM staff will operate a solar telescope for safe viewing of the Sun.
FOODIE FRIDAYS: Fridays, August 3, 10 and 17, 5:30pm - 8:30pm
Each week enjoy food from local food trucks and hear music from the Summer Fest stage. Food Trucks will be located throughout the mall. 10% of proceeds from food trucks will be donated to benefit Feeding Westchester. Look out for samples from mall eateries too.
Food Trucks will be different each week - check back here throughout the summer for which trucks will be driving into Cross County!
Questions about Summer Fest 2018? Text us at 914-266-1900 during mall hours and we'll get right back to you!
Cross County Shopping Center is located at 8000 Mall Walk, Yonkers, NY 10704, off the Cross County Parkway and NY State Thruway. Parking is FREE year-round.