It's no mystery that Halloween is one of the most spooktacular fall holidays – and it's not just kids doing the celebrating! Whether you are attending an office party, casual gathering with friends and family or just planning to stroll the neighborhood with a trick-or-treat map in hand, you can create some ghoulishly great looks with one simple shopping excursion – and there's no hot glue gun needed!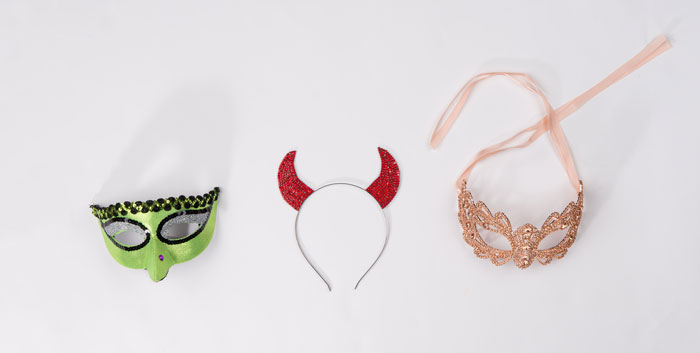 "Just like the collection of bridesmaid dresses and old team jerseys you may never wear again, you won't find a bumble bee, batman or zombie costume getting prime closet space either," says Sandy Hapoienu, Founder and Stylist of SandyHapoienu.com, a Styling Session™ subsidiary. "There's no need to spend money on a one-use costume that will promptly be discarded on November 1st, when you can shop for fashionable pieces from your favorite stores and invent your own distinctive costume that you can continually use time and time again on a daily basis."
Let's get designing – no worries, you won't be sewing, painting or bedazzling anything! Here's your guideline to attend each Halloween affair in style.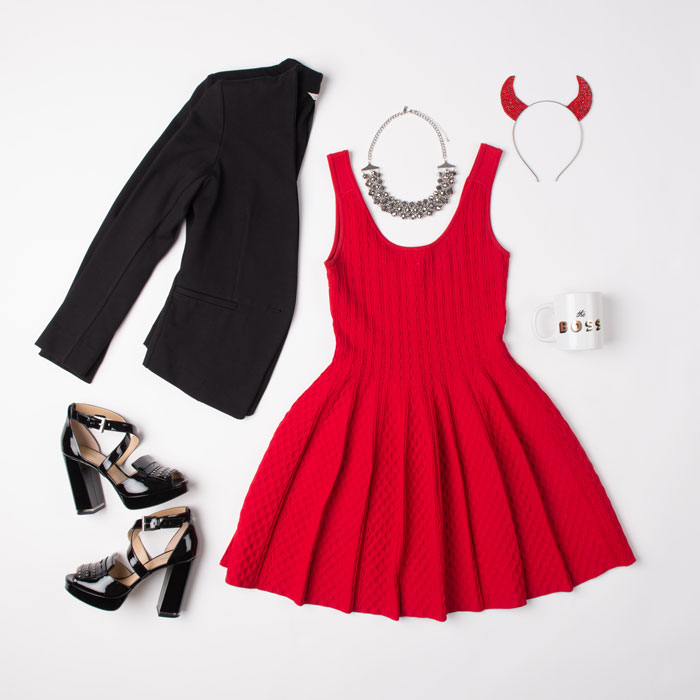 THE OFFICE PARTY
Go red and rock this devilish look like a boss! Pair a sexy, red sweater dress like this one from bebe and add a fitted blazer. When the work day is over and the event begins, shed the jacket and accessorize with bejeweled devil ears, also from bebe, and a statement necklace. Finish your look with Michael Kors Lindy Embellished Platform Pumps. Don't forget your "BOSS" coffee mug, from Macy's.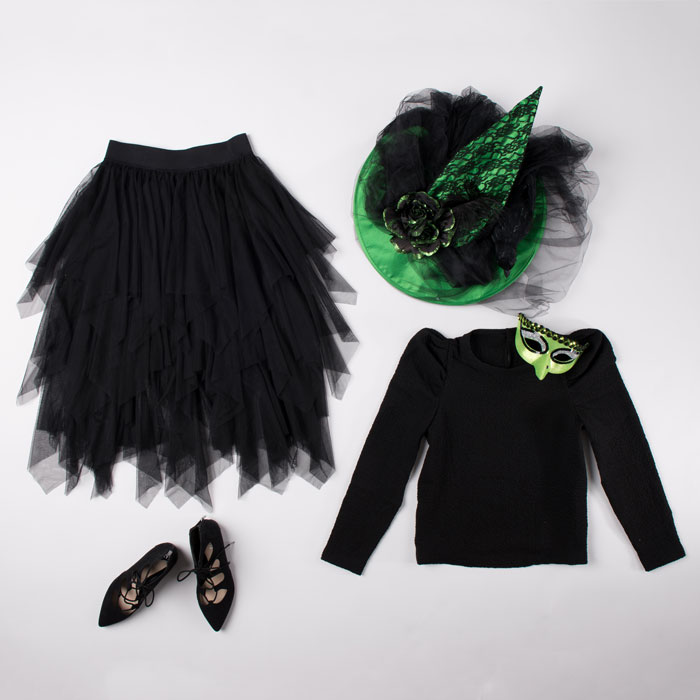 THE CASUAL GET TOGETHER
A witch costume ranks in the top five favorites for adults for a few simple reasons: 1. It's easy 2. It's black (and therefore slimming) 3. You most likely already have a broom for a prop!
We found this gorgeous mid-length, lined skirt with a stretch waist (yay, more candy!) and asymmetric, frilly tulle layers at Zara. Pair it with a wide sleeved, textured top, also from Zara.
"You'll cast a spell on the entire group when you show up looking like a stunning witch, but also on Monday when you arrive at work in the same top and pinstripe palazzo trousers," says Hapoienu. "This skirt is also extremely versatile – dress it up for date night with a faux leather crop top and pumps or go completely casual with a graphic sweatshirt and military ankle boots."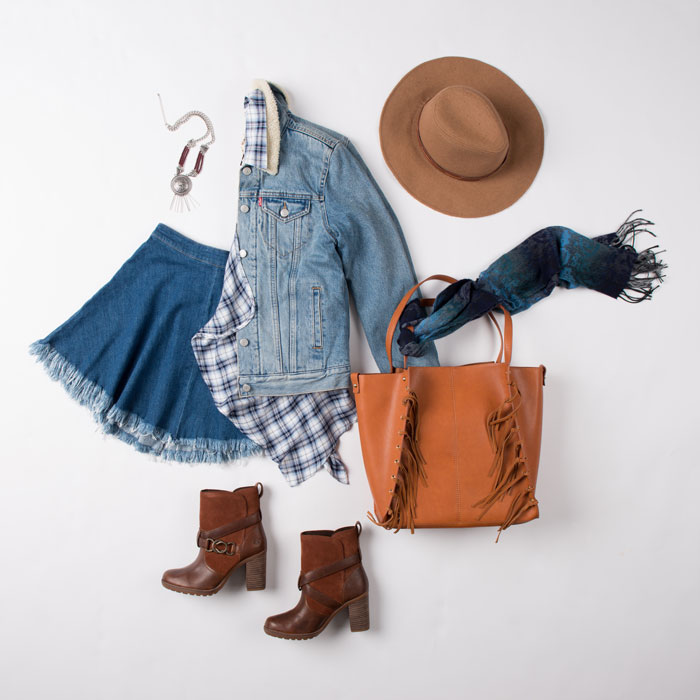 TRICK OR TREATING

Calling all cowgirls! Earlier this summer Lady Gaga nailed a grunge-y, cowgirl getup from famous fashion designers Hedi Slimane and Saint Laurent that we loved so much, we're using it as inspiration for our third Halloween DIY look.
This American Rag plaid lace-back shirt from Macy's has color, detail and a fantastic shape when paired with a frayed denim skirt from GUESS. Incorporate a brown Timberland heeled bootie and belted band Panama hat to complete the look. But wait, don't leave the house with a traditional pumpkin bucket – collect your candy in a fringed tote bag.
Whether you're a devil-boss in disguise or a pioneer woman, test the boundaries of traditional costumes and create your own unique look this Halloween! Don't forget to share your DIY designs on Facebook, Twitter and Instagram.