Fall has officially arrived, but the temperature gauge can still run from hot to cold all in one day. To stay ahead of the changing winds, we've got a way to stretch your sensational summer wardrobe into fall-tastic favorites!
"There's nothing like a new season to inspire you to change up your wardrobe. With layering techniques you get maximum slay-age to create the coolest looks, extend your beloved pieces and stay warm," says Sandy Hapoienu, Founder and Stylist of SandyHapoienu.com, a Styling Session™ subsidiary. "Start with a color combo, add hi and low proportions, light and heavy layering, have fun with prints and add a scarf. You'll walk out the door with the confidence of a fashion insider!"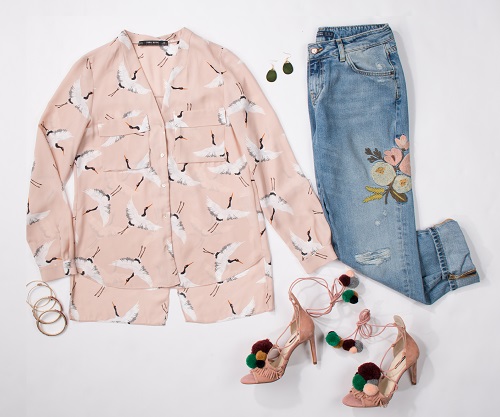 1. Start with a modern twist on denim – find a pair of jeans with embroidery (this is the all the rage!) Pair them with a high-low blouse. This printed blouse from Zara seen above is Rose Quartz, the pantone color of the year (PS – in 2017 the blush palate sticks around – look for Pink Yarrow!)
2. Layer a soft cropped, round neck sweater in the same color family. The lower neckline allows you to still see the collar of the blouse and the edges will peak out from the shorter hemline.
3. Fight off the chill with a light weight scarf – the tassel edge gives it an extra flare. Find a large selection of scarves on the lower level of Macy's.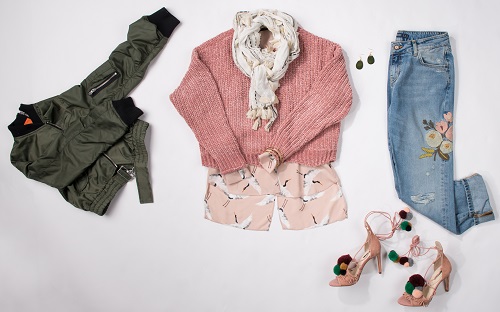 4. Bomber jackets – which are replacing the military jackets this season – can act as a wind breaker for any outdoor activity and is still lightweight enough to keep your look breezy. Bomber jackets are available at stores such as GUESS, H&M, AX Armani Exchange, Garage, American Eagle Outfitters and more.
5. Accessorize! Jewelry and a hair band with hints of cream, pinks and greens complete your look. Find everything from tights to gloves at SIX Accessories.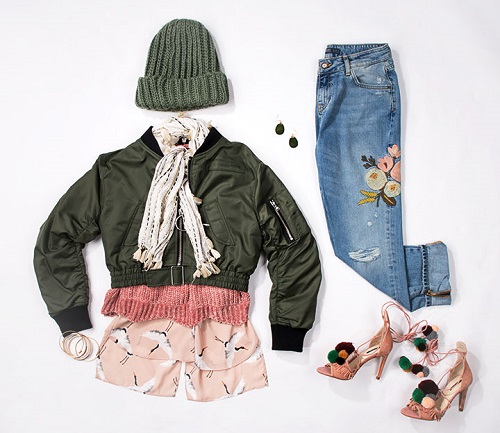 Now it's your turn to slay the layered look. Show off your best summer/fall combo wardrobe on Facebook.com/crosscountyshoppingcenter.