You've heard the expression shirts versus skins in sports… well this summer it's all about shoulders versus sleeves when it comes to fashion! So, you choose – will you be on team peek-a-boo shoulder or team flounce sleeve?
This is no ordinary cut out – we are spotting shoulders peeking out from dresses, tops, tanks and even sweaters this season, typically with a wide opening from the top of the shoulder to the middle of your arm. If you're of a mind to cover up, the flounce sleeve can add some interest to your arms as well. The smaller flounce ending at the elbow is great paired with jeans for a more casual look and a larger flounce closer to the wrist shows well for an evening out dress.
Here are some of our favorite ways to show off your shoulder style.
ROUND ONE:
H&M VS GAP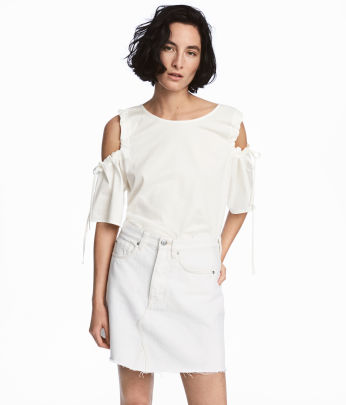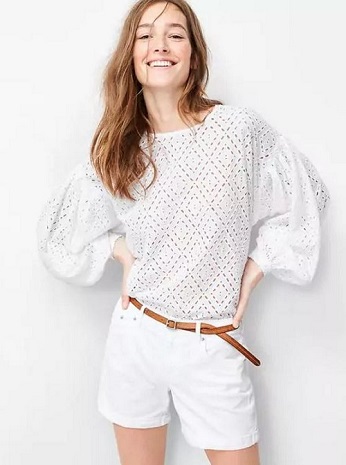 H&M (TOP) is featuring the NEW Open Shoulder Top in black, white and a floral pattern. This is the perfect tank in cotton jersey with an opening at back of the neck with a button, and short sleeves with a drawstring at the top. Style with denim and off you go!
Showing at the Gap (BOTTOM), you'll love the cotton Geometric Eyelet Top with roomy long sleeves and a fitted bodice. Pairing this oversized sleeve with a pair or short shorts or a denim mini is an interesting juxtaposition of shapes.
ROUND TWO:
New York & Company VS Zara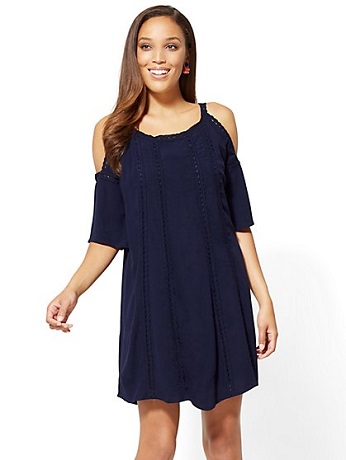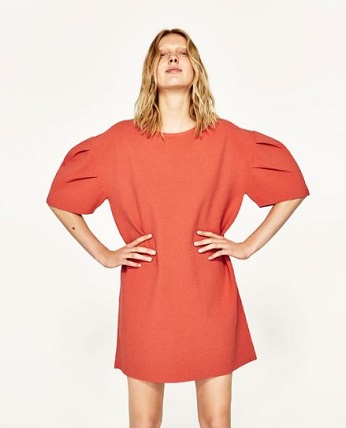 Summer dresses are easy and can be work appropriate – even when you show off your shoulders. Look for the Cold Shoulder Shift Dress at NY&CO (TOP) in solid colors like spiced curry and grand sapphire as well as pretty patterns like the scroll print or with crochet trim.
Going from work to play, Zara's oversized puff sleeved shift dress (BOTTOM) takes this trend up a notch straight to fashion statement. Why not go for a bold color and choose the coral option and pair it with floral mesh sandals.
So... have you picked a side yet? Whether your team shoulder or team sleeve we dare you to make a fashion statement all summer long. Don't forget to show off your look on our Facebook, Instagram and Twitter pages.