Why a Cozy Sweater Dress is the Winter Wardrobe Must-Have:
Baby its cold outside! So naturally you want to wear your warmest, coziest sweater everywhere and every day. Of course on some occasions you'll need to glam it up and that's why we think a sweater dress is the perfect go-to outfit for this chilly season!
Here's how to work this look from the office to a winter night in, or out in the winter wonderland.
"A sweater dress can be a great canvas to showcase your favorite accessories and its versatility will make it your go-to from day to night," says Sandy Hapoienu, Founder and Stylist of SandyHapoienu.com, a Styling Session™ subsidiary. "We've chosen a neutral toned, ribbed sweater dress from a classic designer, Michael Kors, and paired it with a mix of metal jewelry that shows a hint of jewel tones, and velvet burgundy slippers with a touch of sparkle".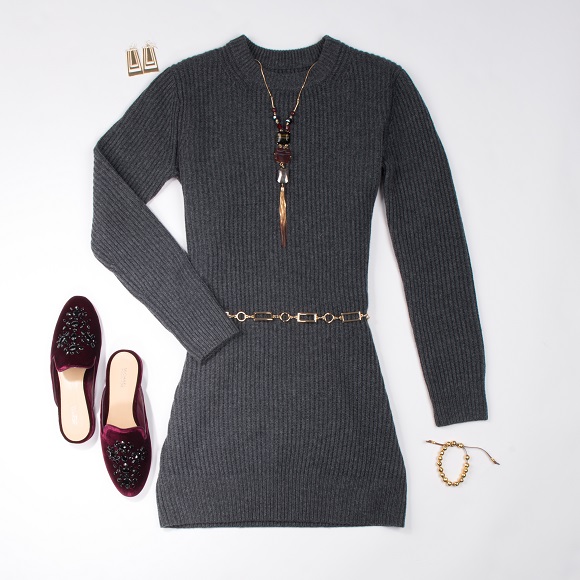 The Style Details:
Start with a sweater dress in a neutral tone (look for the right fit – if it's on the looser side you can accessorize with a fun belt to add interest and draw attention to your waist, like with this gold chain belt also from Michael Kors).
Mix & Match your Metals & Stones – we've added a longer pendant necklace with jewel tones and a tassel from Macy's INC collection along with bangle earrings. Another metallic accessory is the gold ball bracelet with brown leather strap, also from Macy's.
The final touch – a colorful shoe (love burgundy during winter!) with more texture and embellishments from Michael Kors.
Need more ideas? Try these on:
Add a scarf over the pendant necklace so it peeks out
Pair with patterned tights and booties
Add a wide-brim, wool felt hat
Share your knit know-how & pics on Facebook, Twitter and Instagram.