This wardrobe must-have is effortlessly chic; a great canvas for your accessories and basics. It has also earned its title as a "classic"... meaning it's here to stay!
When you live in a climate that demands you wear some kind of jacket for more than half the year, you learn to dress in layers and have coats for different occasions. From choosing between long or short, lined or puffy, hood or no hood; the decisions and selections are endless when it comes to outerwear.
"The best thing about a trench coat is that it really is timeless – a woman of any age, shape or with any budget can pull this look off," says Sandy Hapoienu, Founder and Stylist of SandyHapoienu.com, a Styling Session™ subsidiary. "Have fun with fashion and at the same time get the most out of what's in your closet by wearing the same piece in unexpectedly cool ways."
Pop of Color
"Brighten up a rainy day by playing with color and shape," suggests Hapoienu.
The Style Details:
We selected the new AX Armani Exchange Classic Trench to start, then added a faux fur vest from Michael Kors. Not only does this add a layer of warmth, but also texture.
Accessories complete the look with more color and fun details – we love these burgundy scrunched gloves, fedora hat and faux alligator box bag from Six Accessories.
A striped black & white umbrella, also from Six adds interest, and Michael Kors rain boots embellished with diamonds on the toes complete the look.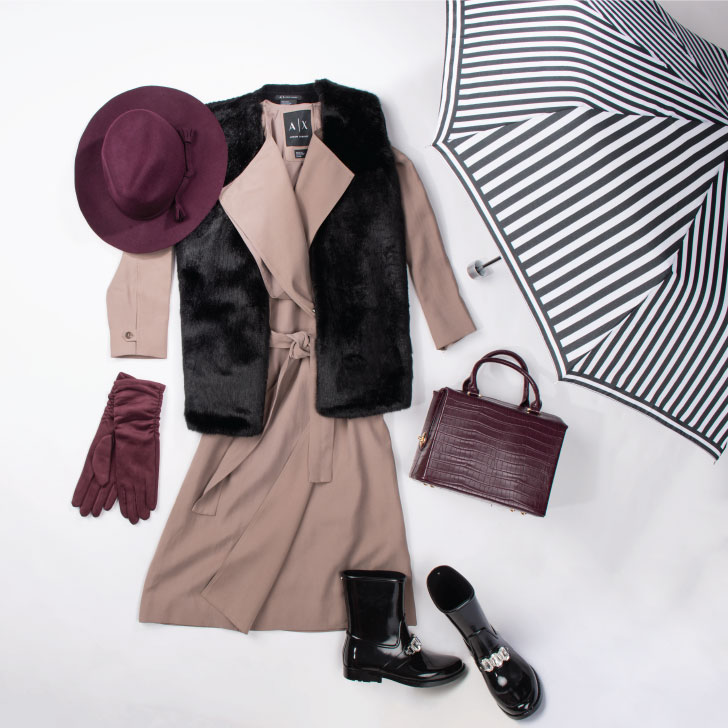 Go Glam
"There is something effortlessly stylish about a trench" Hapoienu continues. "We are taking it up a notch with some glamorous accessories for a night out on the town."
The Style Details:
Swap out the black vest for a blush faux fur collar from Zara. Keeping the look monochromatic is a chic trend for evening apparel.
Add a long statement necklace – pearls are perfect - then add a matching bag like this jewel encrusted gold clutch from bebe.
Finish your look by adding snake skin booties, also in a neutral tone from INC.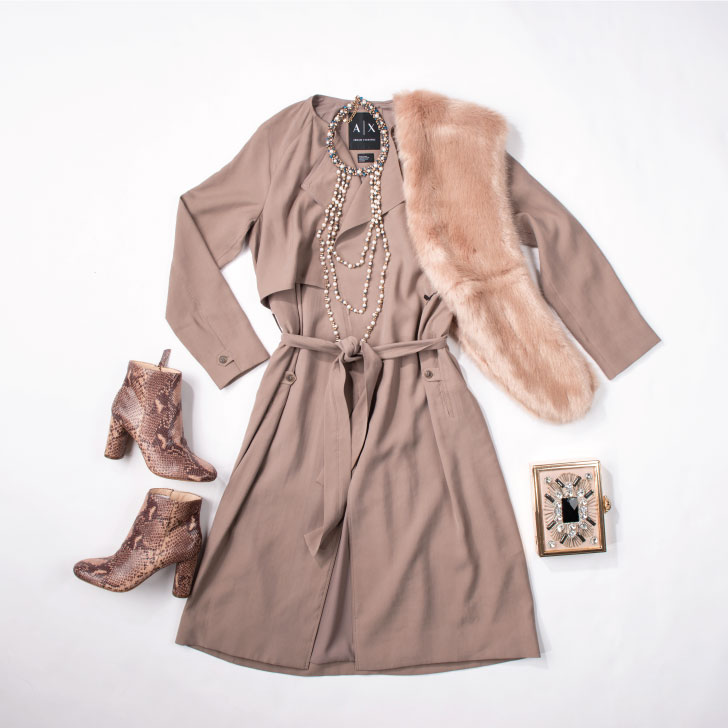 Let's see your best trench coat styles – share some pics on Facebook, Twitter and Instagram.