There's nothing more luxurious and extravagant than velvet and thankfully we're seeing it everywhere this season! We've come up with two ways to wear this magical material - to the fanciest of parties or the chicest streets of NYC!
Romantic Velvet
"Velvet is a classic textile, one that radiates warmth and decadence," says Sandy Hapoienu, Founder and Stylist of SandyHapoienu.com, a Styling Session™ subsidiary. "So naturally we'd want to wear it for a romantic event, whether it be to an upscale event like a wedding or New Year's Eve celebration or to a one-on-one special date night."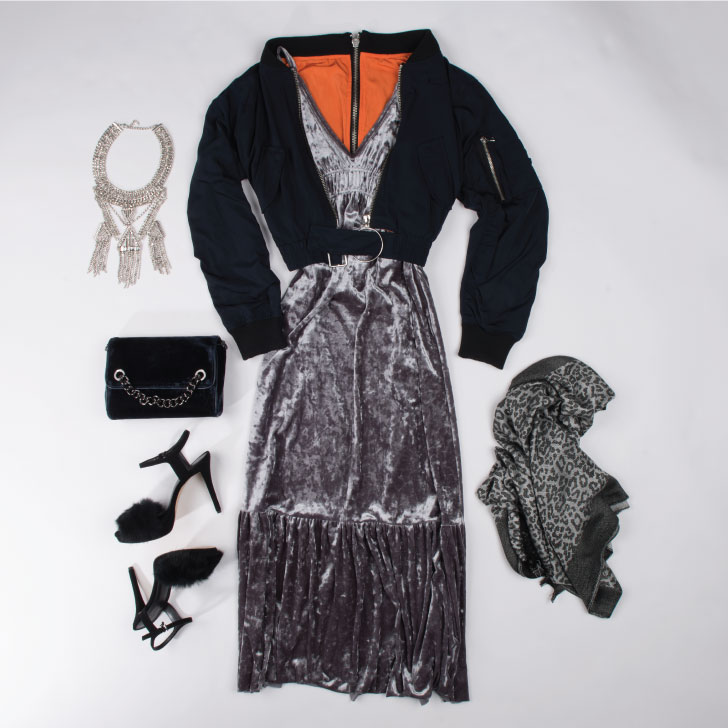 The Style Details:
For formal events a long gown is a classic choice. We've chosen a stunning silver, velvet gown from Zara. It has a plunging v-neck, gathered detail at the waist and frill for the hemline.
Think out of the box for a jacket – instead of a black wrap, try on a short-waisted bomber jacket. This navy silk bomber, with a surprise orange lining adds so much interest to a traditional gown.
The accessories include a statement necklace that highlights the deep V of the neckline, another pop of color and texture with a ruby sparkled bangle, a navy velvet clutch and playful pompom pumps.
Day-time Velvet
"You don't have to limit velvet to the evening," Hapoienu continues. "Wearing velvet during the day in the winter is not only acceptable but celebrated – there are no style rules but to keep it interesting and fun, like we've done with this day-time look."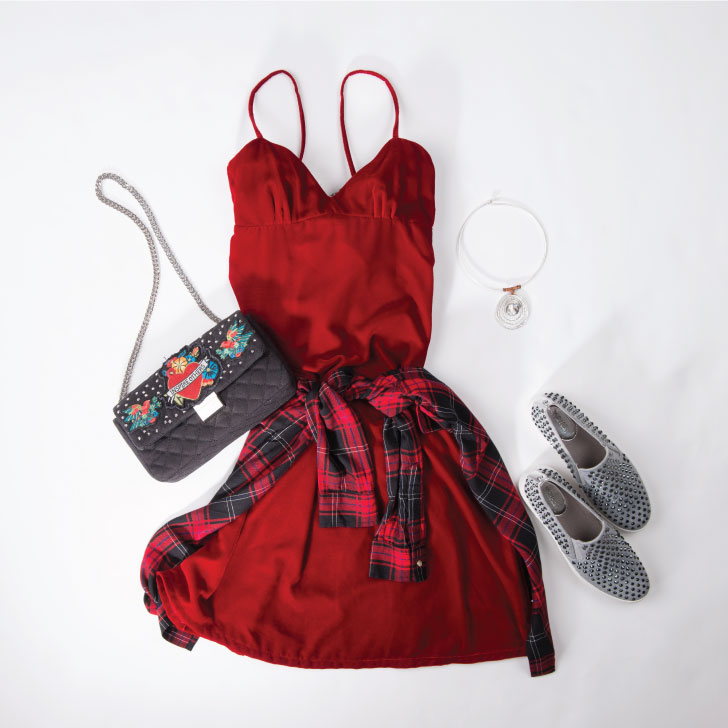 The Style Details:
Stop traffic in this mid-length, velvet dress in deep red! Keep warm by adding a plaid shirt in red & black, around your waist or shoulders.
Don't be afraid to be bold with your accessory choices – we chose to add several necklaces – both short and long – in silver and a pop of cobalt blue. More color can be added in a clutch like this studded, embroidered bag from Zara.
Finish your look by adding some sparkle to your shoes with these Michael Kors embellished sneakers.
Let's see your best velvet looks – share some pics on Facebook, Twitter and Instagram.